English
At Boughton under Blean and Dunkirk Methodist Primary School, we aim to develop the children's English skills on many levels within a relevant, exciting, engaging, and wide-ranging curriculum.
During their time with us at Boughton, we want our pupils to:
Make an excellent start to reading and writing in the Early Years by developing their knowledge and application of phonics
Develop a love of reading and writing that will stay with them long after primary school
Develop a high level of transferrable literacy skills that can be used and applied across all other areas of the curriculum, and in future learning
Secure a high level of spelling, punctuation and grammar
Feel confident in oral literacy, such as speaking to an audience, performing to others, and forming and articulating points of view
The English curriculum can be broken down into several key areas, primarily reading & phonics, writing, and spelling; however, as a school we recognise how closely these areas intertwine, and therefore always exploit the links across different areas of literacy, as well as across the wider curriculum, to enhance the teaching and learning of English.
The following sections aim to provide an overview of our approach to teaching English at Boughton.
Phonics and Reading
We start teaching phonics in Early Years, and continue to teach phonics for all of Year 1 and some of Year 2 as our main strategy for teaching early reading. While we still follow the sequence of teaching that originally came from the Letters and Sounds scheme, over time our skilled phonics teachers have developed more bespoke phonics planning, which is differentiated according to the varied needs within EYFS and Key Stage One. We teach the children to recognise and recall individual phonemes and to identify the Grapheme-Phoneme Correspondences within whole words. The children learn to blend sounds to read whole words and they use and apply their phonics skills to decode. Within our programme of phonics, children learn that some words are not phonetically decodable and they start to learn to read these 'tricky words' or 'common exception words' on sight.
All children take the phonics screening in June of Year 1, which tests their ability to decode real and pseudo words phonetically. If a child does not meet the expected standard in Year 1, they have the opportunity to re-sit it in Year 2.
If children are still finding reading particularly difficult when they move into KS2, there may be phonics intervention put in place to 'plug gaps' for particular children or to go over sounds they have particular problems with. If a child faces particular challenges in acquiring phonics skills as they move into upper KS2, it would be appropriate to look at other methods for supporting their reading progress.
Useful website for phonics: https://www.phonicsplay.co.uk/
Guided Reading (including group and whole class sessions)
Every year group does guided reading in some way, however this may take a different format in different classes, depending on age group/ needs of the children/ preference of the teacher etc. The focus of our sessions is on the direct teaching of reading skills, appropriate to the year group and demands of the National Curriculum. The central focus across the school is on skills of retrieval, inference and deduction, but other areas that should be covered may be decoding (mainly in KS1) and exploration of vocabulary, language choices, sentence structure, authorial voice etc.
Most classes work on a rota system, in which children are split into groups, usually by ability, and rotate around a carousel of activities from one day to the next. Guided reading would either take place every day, so that every group does every task within one week, or there may be 5-6 sessions spread across a two-week cycle. Within a guided reading carousel session, there will be at least two groups working with an adult, while other groups work independently. The adult-led groups will share a text and focus on detailed discussion to meet the objectives that are set, e.g. retrieving details from the text, making inferences or other reading skills. The independent groups will work on reading-related tasks, such as follow up questions from texts that they have already read, comprehension texts, reading for enjoyment etc.
Some classes may use whole class guided reading sessions at different times within the year, which can work particularly well as an opportunity for modelling strategies for tackling reading assessments, such as ways to answer questions in the KS1 and KS2 SATs tests. Whole class sessions enable the teacher to read the text with all children, model the way we pick it apart when reading for meaning, and help to familiarise pupils with test-style questioning.
Reading for Pleasure
We value reading for enjoyment significantly at Boughton, and aim to develop a love of reading in all our pupils that will last them a lifetime.
As part of our teaching of reading, we give children the opportunity to read for enjoyment, in which they can choose texts of all kinds that interest them, including fiction, non-fiction, poetry, magazines, newspapers, articles, posters, leaflets, books from home, books from the library, audio books and anything else they can find!
Reading for pleasure should be built into the timetable in every year group in some way. Where possible, adults should share their own reading preferences to show children that reading for enjoyment is something we do as adults too.
Reading to children/ Story time
As part of facilitating a love of reading in our children, we value the opportunity to read aloud to children where possible. Not only does this aim to encourage enjoyment and pleasure from reading, but it also gives a valuable opportunity for children to hear fluent readers modelling high-quality reading.
All classes should have a 'story time' at least once a week, but more often where possible. This may take the form of shorter books, especially in KS1, or a class may choose a longer, ongoing class text.
Reading at Home
Children in every year group are expected to read at home, with the support of parents/ carers, and are provided with a book from school.
In KS1 and for many children in KS2, we follow a colour band system, within which books go from being wordless to increasing in difficulty, as children become fluent, independent readers by the time they leave primary school.
When children become fluent readers, teachers may take the decision to remove them from the colour-banded system and make them 'free readers'. These children may then choose their own books from the library to read. Teachers should be cautious about making children free readers too quickly and ensure that reading skills, particularly with regards to comprehension, inference and deduction, are fully embedded at an appropriate text level, before moving on.
Volunteer readers in school
Volunteer readers are very welcome in school and can be used to give children opportunities for 1:1 reading. Teachers can choose how they use this support, which could be for the following:
To read 1:1 with children who rarely or never read at home.
To read 1:1 with children who find reading difficult.
To accelerate reading progress for the most or least able readers.
Volunteer readers are given a 'helpers in school' booklet when they start volunteering, outlining the expectations around volunteers in school. There is a section of the booklet specifically related to readers in school, which says:
Reading Volunteers
Reading volunteers offer valuable additional reading for the children on a one-to- one basis that helps build confidence and support progress in reading. As a volunteer reader, you can help children to develop a range of skills, including phonics and decoding; whole word reading; comprehension; inference and deduction; vocabulary; discussion and enjoyment around books. When you read with a child, please ensure you are asking questions that check their understanding and support their reading for meaning, as well as encouraging expression, pace and fluency. If you are unsure as to the types of questions that you might ask, please refer to our question prompt bookmarks, available from the class teacher. After reading with a child, please stamp the child's reading record and note which page they have read to, but write any comments as feedback for the class teacher on the record sheets provided.
Reading Recommendations
While the majority of our pupils are currently working their way through the colour-banded reading books at school, it is also very important that we encourage children to choose books that particularly interest them. Your child's class teacher will often be recommending texts that might appeal to them, and the websites below may help your child in selecting reading materials they might enjoy.
https://schoolreadinglist.co.uk/ (Recommended reading lists, sorted into year groups)
https://summerreadingchallenge.org.uk/book-sorter (A book sorter to help find books within particular age groups, genres and themes)
https://www.oxfordowl.co.uk/for-home/library-page (Link to the website 'Oxford Owl', which contains hundreds of free e-books, levelled by age group, colour band and genre for children to access online)
As parents, you have an invaluable insight into which books your children enjoy, and we would welcome any suggestions you might have, so that we can recommend these to other children. We know that many of the children have lots of books at home, but they are welcome to borrow books from our ever-growing school library, and not forgetting our local public libraries in Boughton, Faversham and Sittingbourne. Reading does not have to be limited to books alone of course; children may wish to read comics, magazines and e-books as well.
Local library opening times:
Boughton

Faversham

Sittingbourne

Monday

Closed

10am-5pm

10am-5pm

Tuesday

10am-12pm

1pm-5pm

10am-5pm

10am-5pm

Wednesday

Closed

10am-5pm

10am-5pm

Thursday

2pm-5pm

10am-5pm

10am-5pm

Friday

2pm-5pm

10am-5pm

10am-5pm

Saturday

10am-1pm

10am-5pm

10am-5pm

Sunday

Closed

Closed

Closed
Our School Library
We are very fortunate to have a well-stocked school library, which the children can access during school time. There are a wide range of fiction and non-fiction books, magazines and comics, picture books and an audio library. The library is an engaging area of our school, equipped with beanbags and other furniture for the children to use when reading for pleasure.
Writing
At Boughton, we aim to teach all aspects of writing, from the earliest letter formation to high quality extended writing across a range of subjects and genres. The Primary English curriculum outlines two key areas for teaching writing, which are:
Transcription (spelling and handwriting); and
Composition (articulating ideas and structuring them in speech and writing).
In practice, this means that we teach the following facets of writing:
Early letter formation
Handwriting, including forming and joining letters accurately in cursive script
Spelling through segmentation (developed through phonics teaching)
Spelling through patterns, rules and other strategies
Use of dictionaries and thesauruses for spelling and vocabulary
Vocabulary
Grammar (in speech and writing)
Punctuation
Creative writing (generating ideas for writing)
Drawing on reading to inspire and shape writing
Writing in role and from new points of view
Writing in standard English
Writing across a range of genres
Writing for a range of audiences
Writing for a range of purposes
We feel that the teaching of writing is most effective when it is set within a purposeful context, and we therefore strive to provide exciting opportunities for writing, which are often cross-curricular. We aim to inspire creativity in our young writers as well as enabling them to use the technical aspects of writing with increasing confidence and accuracy as they move up through the school.
We believe in helping our pupils aspire to reach their highest potential in writing and we therefore celebrate excellent examples of writing in writing displays in each class. The purpose of these displays is to share exemplary work with all pupils and support our children in identifying the criteria for a high-quality piece of writing.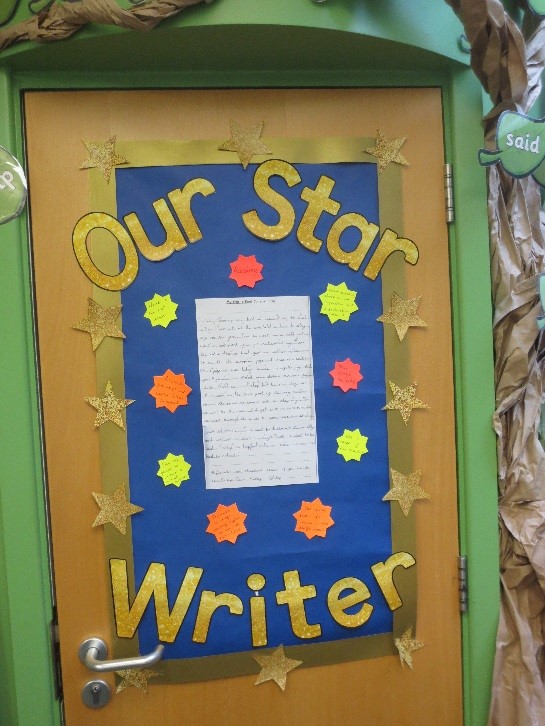 Spelling, Punctuation and Grammar (SPaG)
Spelling
In our school, we view spelling as a key component in the development of children's writing and see accuracy in spelling not as a discrete skill, but one that is interwoven into high quality literacy teaching. The earliest form of spelling teaching comes from systematic phonics teaching, in which children first learn to write words by segmenting graphemes for spelling. This takes place largely in the Early Years and Key Stage One. From Year Two onwards, spelling is taught up to four times a week and covers the content of the National Curriculum on a year-by-year basis.
As a school, we use the scheme 'No Nonsense Spelling' to support our planning and teaching of spelling, but do not necessarily follow the scheme in strict sequence. This resource ensures coverage of all of the spelling content in the Primary English Curriculum by the end of Key Stage Two.
Practising spellings at home
Children in Years one to Six are provided with a list of up to ten spellings per week to practise at home, which is a key part of their weekly homework. Children are expected to practise their spellings using a range of the strategies outlined in 'No Nonsense Spelling', all of which have been shared with the children at school.
Punctuation and Grammar
The teaching of punctuation and grammar goes hand in hand with the teaching of writing at Boughton, and as such, all of the relevant content from the Primary English Curriculum is taught within literacy lessons or discrete SPaG sessions. Coverage of SPaG is outlined on all literacy medium term planning.